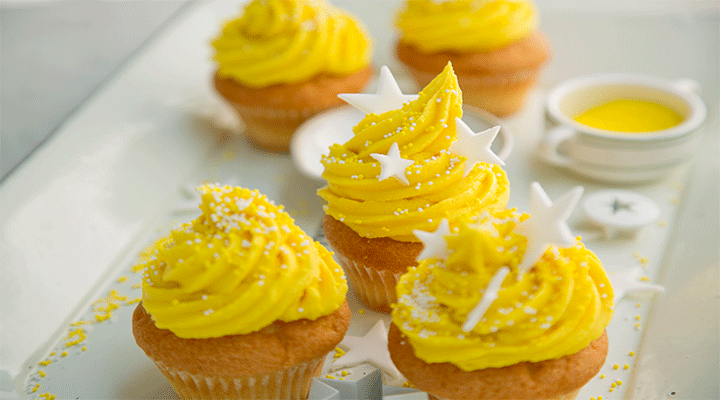 RECIPE OVERVIEW
Yellow gel food colour was used in this recipe, but you can choose from the large variety of colours available in the decorating section to match the theme of your celebration.
1

pack

12 Pack SuperValu Queen Madeira Cakes

1

tbsp

SugarCraft Snowdrift White Edible Sprinkles

275

g

SuperValu Icing Sugar

50

g

White Ready-to-Roll Icing

1

-

Yellow Gel Food Colour
Method
You will need:
star cutter set of three sizes
nozzle and piping bag set
First, to make the stars, roll out the icing on a sheet of non-stick baking paper until the icing is about 3mm thick. Using the star cutters, stamp out 12 large, 12 medium and 12 small stars, arranging them in a single layer on a tray lined with non-stick baking paper as you go. Re-roll the icing as necessary until you have stamped out all the stars. Set aside in a dry place for about 8 hours, until hard.
Beat the butter in a large bowl until soft. Add half of the icing sugar and beat until well blended. Beat in the remaining icing sugar and the vanilla extract until smooth. If using an electric mixer, then add the icing sugar all at once. Add enough food colour to give your preferred tone of colour. Set the nozzle into the piping bag and spoon the buttercream into the bag.
To decorate the cupcakes, pipe a rosette of icing on top of each cupcake. Stick one of each size star into each one. Scatter the edible sprinkles over and arrange on a cake stand or platter to serve.
 Tip: The ready-to-roll icing stars can be made up to several months in advance! Keep them layered between non-stick baking paper in an airtight container in a cool, dry place.
Be the first to add a review.