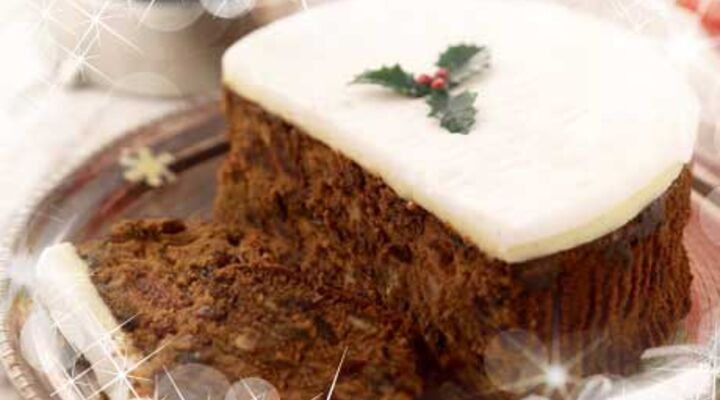 RECIPE OVERVIEW
If you prefer a lighter Christmas Cake this is ideal whilst still retaining the lovely Christmas flavours. Perfect for a stress free Christmas!
1

tsp

Bicarbonate of Soda

dissovled in 1 tbsp SuperValu Milk

55

g

Glace Cherries

quatered

4

tbsp

SuperValu Apricot Jam

85

g

SuperValu Ground Almonds

150

g

SuperValu Ground Almonds

1

tsp

SuperValu Ground Ginger

75

g

SuperValu Icing Sugar

sieved

500

g

SuperValu Icing Sugar

1

-

SuperValu Lemon

grated zest
Method
Preheat the oven to 150°C/300°F/gas mark 2.
Grease and line an 8 inch round cake tin with greaseproof paper.
Place the ground almonds, lemon zest, peel, currants, sultanas, and cherries into a bowl and dust with 1 to 2 tablespoons of the sifted flour, until coated.
In a separate bowl cream together the butter and sugar until pale and fluffy.
Beat in the eggs one at a time, (if the mixture looks like curdling add in a small amount of the flour), then fold in the sifted flour.
Add the fruit mixture, spices and the dissolved bicarbonate of soda. Mix thoroughly.
Transfer the mixture to the tin.
Bake for 2 – 2½ hours, testing after two hours. If a skewer inserted into the middle comes out clean, the cake is ready. If not, return to the oven.
Leave the cake to cool in the tin - for approximately 30 minutes then remove from the tin leaving to cool for 2 hours on a wire rack.
To decorate
For the almond paste
Place the icing sugar and caster sugar in a mixing bowl with the ground almonds.
Add the egg yolks, almond essence and lemon juice.
Knead to make a soft but not sticky dough.
Turn onto a surface dusted with icing sugar, and knead until smooth.
For the icing
Lightly whisk the egg whites in a large mixing bowl until they are just beginning to get frothy.
Stir in a couple of spoons of icing sugar and beat with a wooden spoon until smooth.
Gradually add the rest of the sugar, beating well between each addition.
Stir in the glycerine which helps prevent the icing setting too hard.
Roll out your almond paste.
Using the base of your baking tin as a template cut around the tin.
Turn the cake upside down and brush the base with some apricot jam.
Place the large almond paste disc on top of the jam.
Next using a palate knife, spread the icing on the almond paste. While the icing is still soft use your knife to create peaks by lifting your knife from the icing in an upward movement.
Use cinnamon sticks, star anise and holly to decorate and tie with a suitable ribbon.
Be the first to add a review.