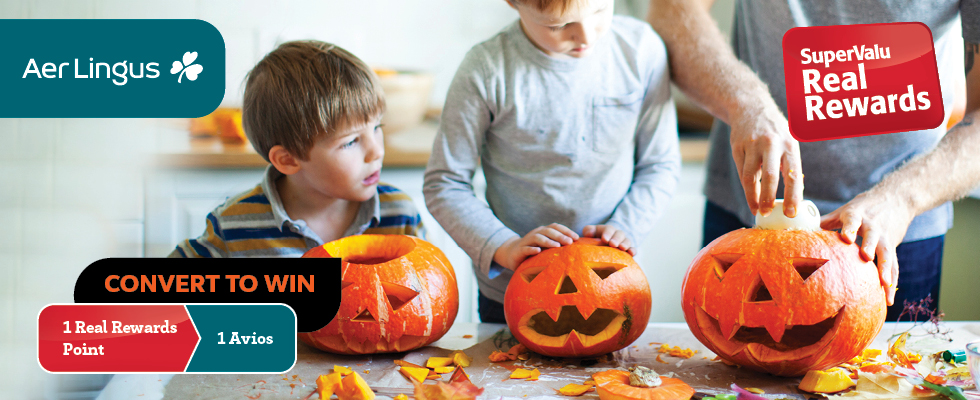 Convert your Real Rewards points in to Avios

Through Real Rewards and AerClub, the loyalty programme of Aer Lingus, you can convert your Real Rewards points and Money Back vouchers into Avios.
And Don't Forget...
The more Real Rewards points you convert, the closer you'll get to exciting travel rewards. 
Avios don't expire as long as you collect or spend at least one Avios point every 36 months, so you have the flexibility to use them when it works for you. Using Pay with Avios the next time you're booking a holiday on AerLingus.com or via the Aer Lingus app, use your Avios to get money off the cost of your flight.
To participate, SuperValu customers must have a valid Real Rewards card and an AerClub account.
Standard Offer: AerClub members can convert Real Reward points to Avios at a rate of 1 Real Rewards point to 1 Avios. A valid AerClub membership number must be entered at the time of converting points. 
Minimum conversion is 50 Real Reward points.
Only 1 AerClub membership number can be linked to 1 Real Rewards account.
You can't collect Real Rewards points when you purchase Lotto and lottery tickets, phone top-up vouchers, call cards, GAA tickets, gift vouchers, postage stamps, savings stamps, tobacco products, medicines and infant formula products. Other products and ranges may be excluded at any time. Minimum spend to qualify for points is €1.
Standard Avios will be credited to your account within 7 days.
This offer is subject to change or withdrawal. SuperValu terms and conditions apply.
Once Avios are credited to the members account they can't be converted back to Real Reward points or Money Back vouchers.
For missing Avios please 

call +1890800258 to claim any missing Avios.

 
Avios are issued and redeemed in accordance with Avios terms and conditions, for further details please visit www.avios.com

Competitions Terms & Conditions 
By converting a minimum of 50 Real Rewards points to Avios in one transaction on the dates inclusive 21 October 2020 – 31 October 2020, you are automatically entered into this promotion, entrants will be deemed to have accepted and be bound by the Terms and Conditions.
Minimum 50 Real Rewards points to be converted in one transaction to Avios points to be automatically entered in to the draw. One transaction = one entry into the draw where your name is drawn from a list of all entrants.
The competition will be run from 00:01 on 21 October 2020 until 23:59 on 31 October 2020 ("Promotional Period").
There will be one database from which entries will be drawn made up of all valid entrants.
The Promotion is open only to SuperValu Real Rewards members who are residents of the Republic of Ireland over the age of 18, excluding employees and their immediate families (defined as parents, siblings, children & spouse regardless of where they live) of Aer Lingus, Avios Group Limited (AGL), SuperValu Stores & the Musgrave Group their affiliated companies, their agents or anyone professionally connected with the Promotion. Where an entrant is drawn from the database and is contacted their eligibility will be questioned before they are asked the question of skill. Where an entrant is deemed ineligible they will not be asked a question of skill and another entrant will be drawn.
The Promoter is Musgrave Limited trading as Musgrave Retail Partners Ireland (the "Promoter") having its place of business at Tramore Road, Cork. The Promoter may use and share your personal information with businesses and suppliers that provide prizes for the Promotion and or with businesses and suppliers of services for the purpose of processing information on our behalf (e.g. printers who need certain details to print our mailings and service providers who administer certain aspects of the Real Rewards Programme for us). This includes Avios Group Limited who will fulfil the awarding of the second Prize to the successful Winner.
There are five Prizes to be won. The five prizes each consist of a €100 SuperValu gift voucher.
The Prizes cannot be exchanged for cash or goods. SuperValu Gift Voucher terms and conditions apply, these can be found at SuperValu.ie. The Prizes are non-transferable and non-refundable. Only one Prize per person during the entire promotion.
Five successful Winners will be selected at random from the database. Winners will be selected at the end of the Promotional Period. The selection of the successful entrants will take place by 06 November 2020. The Promoters' selection of the entrants is final and binding and no further correspondence will be entered into.
The successful Winners will be notified by letter and/or by telephone/ or by email according to the contact details supplied by the successful entrant, within 30 days of the closing date of the Prize draw and upon receiving the letter/phone call they must answer a question of skill and text back the response to redeem their Prize.
Upon answering the question of skill correctly and confirming their Real Rewards membership number, AerClub membership number and postal address, the Prizes will be sent to the Winners within 40 days.
For details of the Winners please send a stamped envelope to SuperValu Competitions, SuperValu, Tramore Road, Cork stating for which competition you would like Winners' details.
The Promoter does not accept responsibility for entries which are illegal, incomplete or damaged and these entries will not be accepted.
The Promoter reserves the right to terminate, amend, and extend the Promotion.
The Promoter accepts no responsibility for any damage, loss, injury (other than our liability for personal injury or death as a result of its negligence) or disappointment of any kind suffered by any entrant in entering the Promotion or in connection with the Prize, including but not limited to as a result of any entrant winning or not winning any prize. The Promoter provides no warranty as to the fitness or condition of the Prize.
These Terms and Conditions and any dispute or claim arising out of or in connection with them or their subject matter (including the Promotion), existence, negotiation, validity, termination or enforceability (including non-contractual disputes or claims) shall be governed by and construed in accordance with Irish law.
The Courts of Ireland shall have exclusive jurisdiction in relation to any dispute or claim arising out of or in connection with the Terms and Conditions or their subject matter, existence, negotiation, validity, termination or enforceability (including non-contractual disputes or claims).
By participating all participants consent to the publication of their names in the event they win the competition. This may be on-line or as reasonably determined by Musgrave.
By participating all participants consent to take part in reasonable media activity in the event they win the competition. This may be photography in their local SuperValu store for the purposes of promotion online and in social media or as reasonably determined by Musgrave.
The Promoter reserves the right to amend these Terms and Conditions.