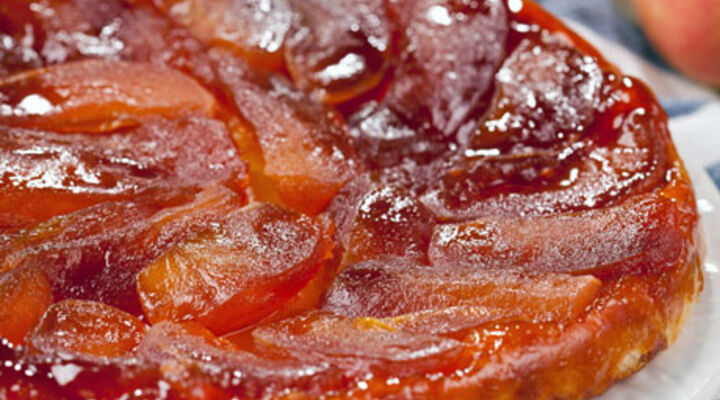 RECIPE OVERVIEW
This is one of my famous one pot wonder desserts. It is a very simple but effective dessert.
1

sheet

Puff Pastry

thawed naturally

18

-

SuperValu Blackberries

(approx)

75

g

SuperValu Brown Sugar

4

-

SuperValu Granny Smith Apples

peeled and cored

75

g

SuperValu Irish Creamery Butter

0

-

SuperValu Lemon

juiced
Method
Select a medium sized oven proof frying pan - preferably about 9 inches/23 cm.
Preheat the oven to 200°C/400°F/Gas Mark 6.
In the frying pan, gently melt the butter and then add the sugar and stir continuously until the mixture begins to bubble and all the sugar has been dissolved.
Meanwhile cut the apples into 6 wedges.
Squeeze a little lemon juice on the apples to prevent them from darkening.
Add the apples to the pan and cook gently for 8-10 minutes until they begin to soften - just slightly and they take on a nice golden brown caramel.
Add in the blackberries at this stage and cook for a moment or two.
Remove from the heat and allow to cool for a further 8-10 minutes.
Meanwhile roll out the puff pastry and cut out a disc to fit the top of the frying pan. This will not be the same size as the bottom of the frying pan!
When the apple and blackberry mixture has cooled slightly fit the disc of puff pastry onto the top of the caramelised fruit mixture.
Secure it tightly.
Transfer the pan to the oven and bake for 15-18 minutes until the pastry is golden brown.
Remove from the oven and allow to set for 10 minutes.
Take a large serving platter, place it on top of the pan and turn it over to reveal a glorious pastry case laden with caramelised apples and blackberries.
Serve immediately with freshly whipped cream and ice cream.
If you want to get little individual tartlet dishes and make small tarts you just need to transfer the caramelised fruits to them and press a disc of puff pastry onto the top.
Be the first to add a review.