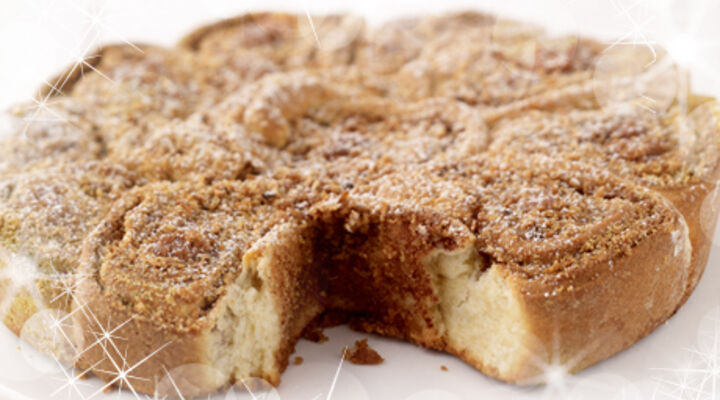 RECIPE OVERVIEW
This is a very seasonal dessert, perfect served on it's own or with some warm custard. Perfect to have on standby for the unexpected guest.
50

g

SuperValu Butter

melted

80

ml

SuperValu Buttermilk
Filling
75

g

Pack Dessicated Coconut

20

g

SuperValu Butter

melted

75

g

SuperValu Ground Almonds
Method
Preheat the oven to 180°C/350°F/Gas Mark 4.
Line two baking trays with parchment paper and spread the coconut on one tray and the ground almonds on the other.
Place in the oven for 8-10 minutes until toasted, remove from the oven and set aside to cool.
To make the dough
Increase the oven temperature to 200°C/400°F/Gas Mark 6.
Grease the sides and bottom of a 9 -10 inch spring form pan.
In a food processor, combine the cream cheese, buttermilk, sugar, melted butter and vanilla.
Process until smooth, about 10 seconds then pour in a bowl.
Sift in the flour, baking powder, salt, and bread soda and mix until the dough clumps together. The dough will be soft and moist.
Remove the dough out onto a lightly floured surface.
With a rolling pin, roll the dough into a 12x15 inch rectangle.
Brush the dough with the melted butter, leaving a ½ inch border unbuttered around the edges.
To make the filling
In a medium bowl, combine the brown sugar, cinnamon, cardamom and ginger.
Sprinkle the mixture over the buttered area of the dough and pat it gently into the surface.
Sprinkle the toasted coconut and almonds over the sugar mixture.
Starting at a long edge, roll up the dough like a swiss roll.
Pinch the seam to seal and leave the ends open.
With a sharp knife, cut the roll into 12 equal pieces.
Set the pieces cut side up, in the prepared pan; they should fill the pan and touch slightly, but don't worry if there are small gaps.
Bake for 20-25 minutes until golden brown and firm to the touch.
Set the pan on a wire rack to cool for 5 minutes.
Run a spatula around the inside edge of the pan and remove the spring form ring.
Transfer the cakes onto a serving plate.
To make the glaze
In a small bowl, mix the sugar, milk and vanilla to make a smooth glaze.
It should have a thick and pourable consistency so add more milk if needed.
Drizzle over the roll let stand for 15 minutes and serve.