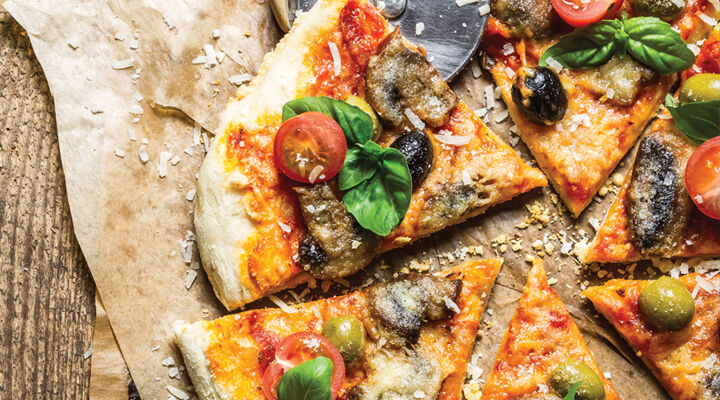 RECIPE OVERVIEW
You will never again return to a shop-bought frozen pizza after making this! Vary your fillings as much as you like.
300

g

Gluten Free Plain Flour

plus extra for dusting

1

pinch

Polenta

for dusting
Method
1. Mix together the flour, dried yeast and salt in a large mixing bowl. Lightly dust a clean work surface with a little gluten-free flour.
2. Mix the lukewarm water and olive oil together and add to the dry ingredients. (If you have some basil pesto, you could use that instead of the oil.) Mix the dough thoroughly, then tip it out onto the floured surface and knead it for a couple of minutes, until smooth. Transfer to a large clean bowl and cover with a clean tea towel. Leave it to rise for 30 to 40 minutes, until the dough has increased in size.
3. Preheat the oven to 220°C/gas mark 7.
4. Lightly dust the work surface with a little polenta, which will add some crunch to the base. Roll the dough out on the polenta, then transfer to a pizza pan or baking tray.
5. Add your favourite pizza toppings, then transfer to the oven and bake for 15 to 20 minutes, until the cheese is bubbling and everything is cooked through.
*Always check Coeliac Society Foodlist for gluten-free brands.