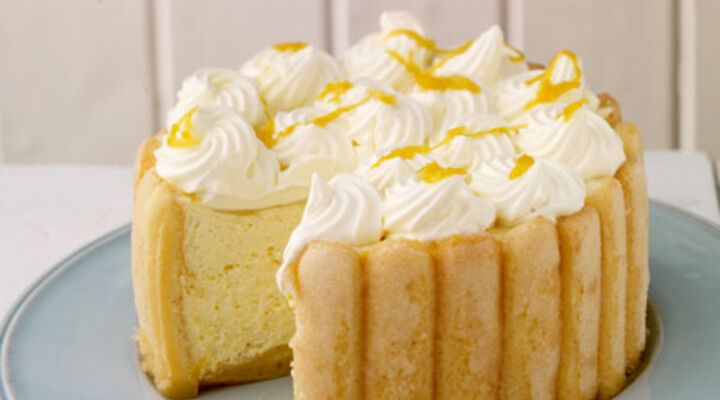 RECIPE OVERVIEW
The fresh zest of lemon and smooth mascarpone, fresh, fruity and delicious!
1

packets

Sponge Ladyfinger Biscuits

1

-

SuperValu Lemon

zest & juice
Syrup for the Lady Fingers
0

-

Confit Lemon

to decorate

1

-

SuperValu Lemon

juice
Method
Firstly place the gelatine leaf in some cold water, and allow to soften.
To make the syrup for the lady fingers, place the lemon juice, water and honey into a pan and bring to the boil then reduce the heat and allow to simmer for 4 – 5 minutes.
In the meantime pour 1/3 of the cream into a pan and heat but do not allow to boil. Stir in the gelatine and allow to cool down. In the meantime, in a large bowl, whisk together the mascarpone and sugar, then add 2 egg yolks and further whisk until fully incorporated. Add the lemon juice and zest.
In a separate bowl whip the egg whites until stiff. Add the egg whites to the mascarpone mixture, folding in until fully incorporated. Whip together the remaining cream until forming stiff peaks, then fold into the mascarpone mixture.
To assemble, literally dip the biscuits into the syrup, if you allow the biscuits to rest in the liquid they will disintegrate. Stand the biscuits straight in a cake tin of approx 8" diameter, then fill with the mascarpone mousse. Refridgerate until set then place in the freezer for a few hours. Decorate as you wish, my preference is with Lemon Confit.
Be the first to add a review.