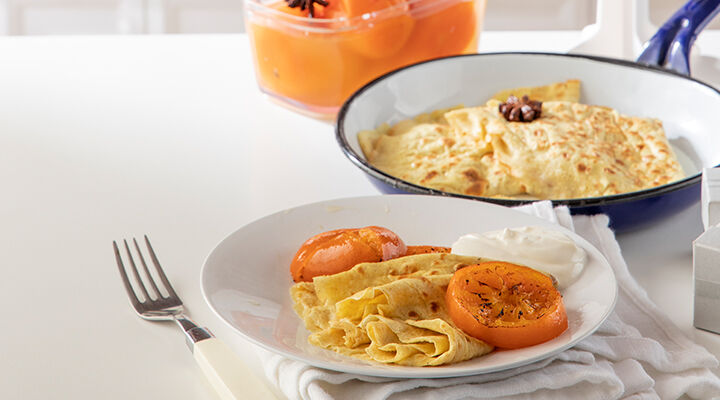 RECIPE OVERVIEW
This breakfast recipe is the perfect mix of healthy and indulgent.
2

tbsp

SuperValu Sunflower Oil
For the preserved clementines
500

g

SuperValu Granulated Sugar

600

g

SuperValu Signature Tastes Clemengold
Method
Blend the oats into a flour in a food processor, then add the almond milk, maple syrup, oil and a pinch of salt and blend again to combine. This batter can be made the night before.
To make the preserved clementines, put the sugar, water and star anise in a large saucepan and heat gently, stirring until all the sugar has fully dissolved. Cut across the end of each clementine and place in the syrup. Bring the syrup to the boil, then reduce the heat to a gentle simmer, cover the pan with a lid and cook for 1 hour. Remove from the heat and allow to cool slightly before pouring the syrup and fruit into a large sterilised jar. This will keep in the fridge for two weeks.
To cook the crêpes, heat a little oil in a non-stick frying pan set over a medium heat. Once the oil is hot, pour a couple of tablespoons of the batter into the pan, tilting it a little to spread it out a bit. Cook for 1 minute on each side, until golden brown. Repeat, using up all the batter. To serve, fold up the crêpes, then warm through in a frying pan with a couple of tablespoons of the clementine syrup and three slices of preserved clementines.
Be the first to add a review.