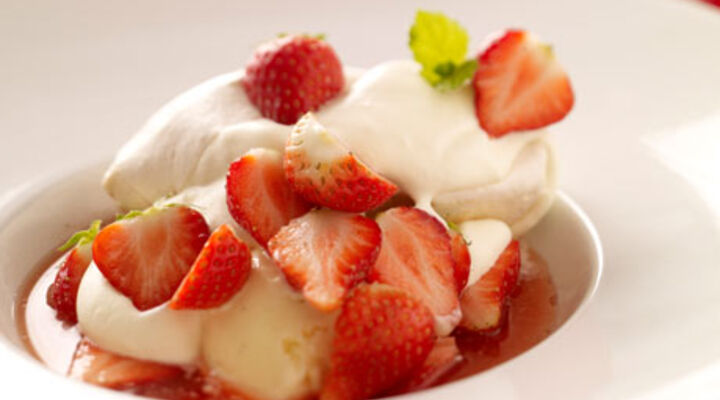 RECIPE OVERVIEW
A Pavlova is a meringue cake with a light, delicate, crisp crust and a soft sweet marshmallow center. If cracks start to form when you open the oven. Don't be disheartened, just make some extra whipped cream to fill in the hole if this happens. It will still be a spectacular dessert.
1

tsp

SuperValu Cornflour

1

tsp

SuperValu White Wine Vinegar
Consomme
250

mls

Champagne Pierre Darcy's Brut NV 75cl

225

g

SuperValu Strawberries
To Serve
225

g

SuperValu Strawberries

0

-

SuperValu Vanilla Ice Cream Pint Block 568ml
Method
Preheat oven to 120C/240F/Gas mark ½.
Put the egg whites into a spotlessly clean mixing bowl, beat on full speed until quite stiffly beaten. Turn the speed of the mixer down and slowly add the sugar, adding just a little at a time. When all the sugar has been incorporated, add the cornflour and vinegar and give one final whisk on high speed.
When ready the mixture should be glossy and when the bowl is turned upside down the mixture should remain stationary in the bowl.
Line an oblong baking tray (13 x 9 inches) with parchment paper. Using two tablespoons mould the meringue into quenelles (oval shapes) and place them carefully on the prepared baking trays.
Bake in the oven for 1 hour until the meringue mixture is very firm to touch but still soft on the middle. I normally leave mine to cool in the oven with the door ajar.
Meanwhile put the lemon juice, strawberries, sugar and champagne in a large bowl and set it over a saucepan of simmering water. Cook for 10-12 minutes or until all of the strawberries have softened down and a sauce like consistency has
been achieved.
To serve: Pour a little of the consommé into a large bowl, sit the Pavlova on top of the consommé and arrange a scoop of vanilla ice cream either beside or under the Pavlova. Garnish with additional strawberries.
Be the first to add a review.