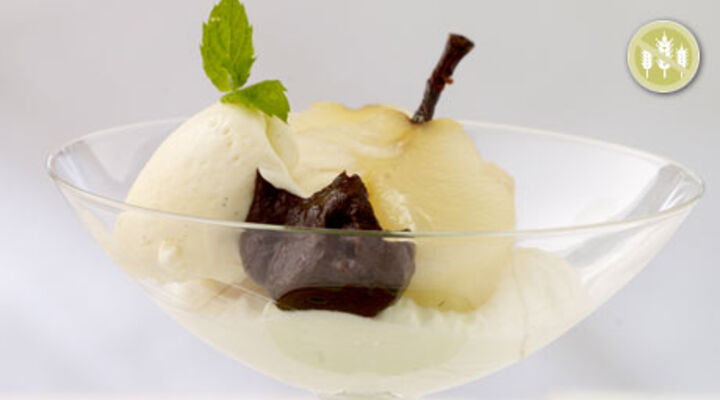 RECIPE OVERVIEW
It is so difficult now to buy a nice ripe pear that it is nice to have a few options for the cooking of them. This is my twist on a very well tried and tested classical French dish.
110

g

Gluten Free Dark Chocolate

*

0

-

SuperValu Lemon

cut into wedges

0

-

SuperValu Orange

cut into wedges

4

tbsp

SuperValu Vanilla Ice Cream Pint Block 568ml
Method
Peel the pears, leaving the stalks in place and remove the cores.
Place the sugar, water, lemon, orange and wine in a saucepan over medium heat and stir until sugar has dissolved.
Increase heat and simmer for 5 minutes.
Add the pears and allow to simmer, covered with a square of parchment paper, in the liquid for 15-20 minutes or until tender.
Remove from the heat and leave to cool in the liquid for at least 2 hours or the next day is best to allow the flavours to infuse.
In the meantime, prepare the chocolate sauce. Add the cream to the saucepan and bring to a gentle boil.
Break up the chocolate and place in a heat proof bowl.
Pour the boiled cream over the chocolate and stir gently to make a sauce.
Keep covered with cling film and warm until needed.
To serve, fan out the pears, leaving the stalks intact.
Arrange a cocktail glass, add some whipped cream and the fanned pears.
Drizzle a little of the chocolate sauce over each one – the remainder can be served in a small jug separately.
Served with oodles of your favorite ice cream.
*Check Coeliac Society of Ireland Food List for gluten free brands.
Be the first to add a review.