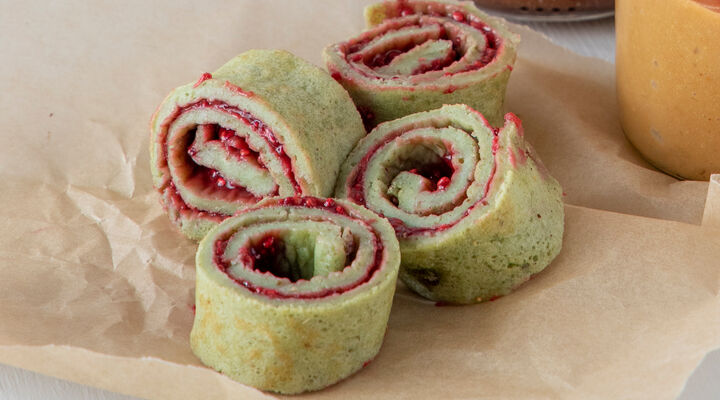 RECIPE OVERVIEW
Make travelling with kids that a little bit easier with Clare Anne O'Keefe's Pinwheel Pancakes. Perfect for packing on those long journeys.
For the Pancakes:
15

g

Funktional' Green Superpowder Powder

1

portion

Olive Oil

for cooking
For the filling:
250

g

Frozen Strawberries

raspberries, blueberries or a mix
Method
1. In a medium pot, stir together the berries, maple syrup and salt until combined. Bring to a simmer over a medium heat and cook for 5 to 7 minutes, until the berries have softened. Reduce the heat to medium and carefully mash the berries with a potato masher until mostly smooth. Add the chia seeds
and stir until combined.
2. Simmer over a medium-low heat for 8 to 15 minutes more, stirring frequently and reducing the heat if necessary to avoid sticking. Cook until a lot of the liquid has cooked off and the mixture has thickened slightly.
3. Remove from the heat and stir in the vanilla extract and lemon juice. Leave to cool.
4. To make the pancakes, put the oats in a blender and blitz until it resembles a fine flour. Add the green powder, egg, milk, cinnamon and baking powder and blitz until you have a texture like pancake batter.
5. Heat a lightly oiled frying pan over a medium-high heat. Pour the batter into the pan, using approximately one-quarter of the total batter for  each protein pancake. Tilt the pan in a circular motion so that the batter coats the surface evenly. Cook the pancake for about 50 seconds, until the bottom is light brown. Loosen with a flexible spatula, flip over and cook the other side.
6. Spread the pancake with a thin layer of jam, then roll up tightly, wrap in foil and chill in the fridge for at least 30 minutes. Slice into 2cm rounds and pack in greaseproof paper.
Be the first to add a review.