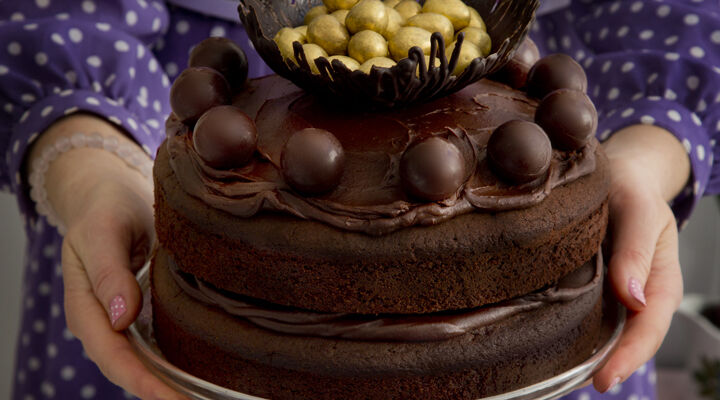 Method
Preheat the oven to 180°C/gas mark 4. Grease 2 x 20cm round, loose-bottomed cake tins, line the bases with non-stick baking paper and grease again. Set the tins aside on a baking sheet.
To make the cake, cut the butter into pieces and bash the chocolate. Place the butter and chocolate in a medium bowl and set over a pan of simmering water or in a microwave in 30-second blasts until melted. Remove and leave to cool a little.
Meanwhile, sift the flour and cocoa powder into a large bowl. Toss the sugar through and make a well in the centre. Beat the eggs in a jug, then stir in the milk and vanilla extract. Pour the mixture into the centre of the dry ingredients along with the melted chocolate mixture. Mix everything together until smooth and well combined.
Divide the batter evenly between the prepared tins (about 860g per tin), spread smooth with the back of a spoon and bake for 40 to 45 minutes, until a skewer comes out clean. Carefully remove from the tins and leave on a wire rack until completely cool.
Meanwhile, to make the nest, bash and melt the chocolate as before, then leave to cool a little. Upturn a small bowl on a plate. Cover the outside of the bowl with tin foil, making it as smooth as possible, then grease lightly with a little oil. Spoon the chocolate into a disposable piping bag, snip the end and drizzle the chocolate back and forth over the base of the bowl to create a nest shape. Leave aside for about 1 hour to set, then refrigerate until needed.
To make the ganache, bring the cream slowly to the boil in a small pan and remove from the heat. Break the chocolate into a large bowl and pour the hot cream over. Stir until the chocolate has completely melted and is well combined with the cream into a smooth sauce. Leave to cool to room temperature.
Place one cake on a cake stand or serving plate. Trim it flat if it's a little domed, then spread half of the ganache over. Place the remaining cake on top and cover with the remaining ganache. Arrange the chocolate truffles evenly spaced all around the outside edge. Place the chocolate nest in the centre of
the cake, fill with the golden mini eggs and serve with softly whipped cream or crème fraîche.
Be the first to add a review.