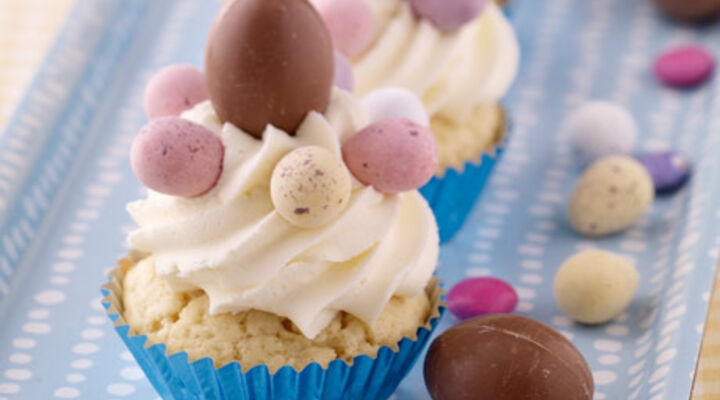 RECIPE OVERVIEW
Perfect for an Easter treat and great to make with kids.
1

packets

Mini Chocolate Eggs
Vanilla Cream
400

g

SuperValu Icing Sugar

2

-

SuperValu Vanilla Pod

or 1 tsp Vanilla Extract
Method
Preheat the oven to 180°C/350°F/Gas Mark 4.
To make the cupcakes, soften the butter and beat in a large mixing bowl with the sugar.
Add in the vanilla extract at this stage also and beat well until the mixture is really light and fluffy.
It is important to spend a little time on the creaming stage to make sure that the mixture is very light prior to adding the eggs and flour.
When this mixture is creamy and fluffy add in the eggs and sieve in the flour.
If you find the mixture is a little tight you can add a dessertspoon of milk to loosen it up a little.
Line a 12 cup muffin tray with deep muffin papers (if you prefer you can actually use smaller bun tins or even some mini muffin trays).
Divide the mixture between the muffin papers, filling about ¾ way full.
Bake for 20-25 minutes until well risen and cooked through and then allow to cool.
Vanilla Cream Topping
When the cupcakes are cool you can make up the topping.
Using an electric hand whisker beat the butter until smooth and creamy, add the vanilla seeds or extract and beat well.
Gradually add the icing sugar and beat until creamy and well combined.
To serve, use a piping bag to pipe the topping on the cupcake or alternatively you can spread it over the top using a spoon.
Decorate with some mini chocolate eggs.