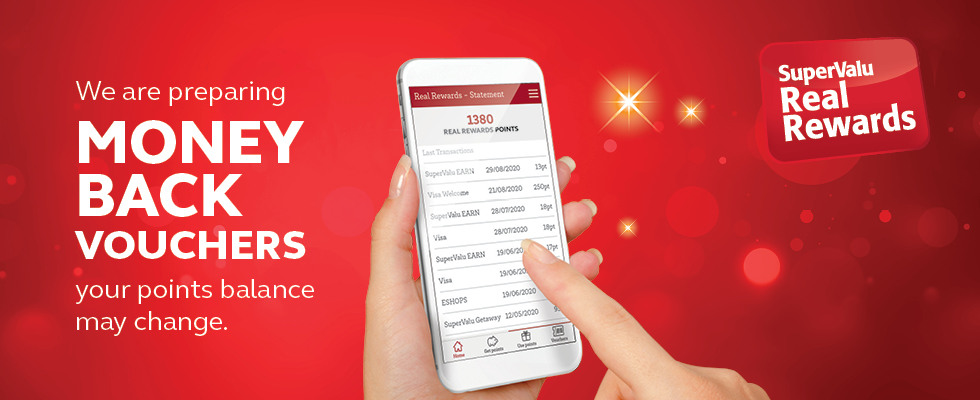 Good news! Money Back vouchers are on the way
We are preparing Money Back vouchers. If you had more than 250 points on the 28th October 2020 you have qualified for Money Back vouchers. As we are converting your points into vouchers your balance will change.
Q. Why has my points balance changed?
A. We have converted your Real Rewards points to Money Back vouchers. Money Back vouchers are issued in denominations of €2.50 (250 points) so you may have a points balance carried over and you may have collected more points since the 28th October 2020. The points you have carried over will be sent to you in our August Money Back mailing. 
Q. When and how will I get my Money Back vouchers?
A. Money Back vouchers will begin to land from 30th November 2020. If you are due to receive Money Back vouchers greater than €5, they will be sent to you via post OR the voucher section of your Real Rewards app. If you are due to receive €2.50 or €5 worth of Money Back vouchers, you will receive your voucher at the till when you scan your Real Rewards card in-store.
Q. Can I convert my Money Back vouchers back to points?
A. No they cannot be converted back into points.
Q. How can I find out how much Money Back vouchers I am getting?
A. You can check your statement on the Real Rewards app.
Download the Real Rewards app now
Voucher Terms & Conditions
The voucher(s) entitles the holder to the discount value shown when making a transaction in a participating SuperValu store.
The voucher(s) should be fully redeemed in one transaction. No change can be offered for any unused value of the voucher. The voucher(s) expires after the date stated on it and can be redeemed once during this period only.
The Real Rewards card bearing the same serial number as the Money Back voucher must be presented when redeeming.
To redeem the voucher(s) either: (a) present the voucher with your Real Rewards card in-store at time of payment; or (b) when prompted, insert the online code provided on it when shopping online at supervalu.ie.
The voucher(s) is redeemable online for selected SuperValu stores only. Vouchers cannot be redeemed for cash.
Vouchers can be used with selected partners, Electric Ireland and Aer Lingus.
Vouchers cannot be used for the purchase of the following goods: Lotto and lottery tickets, phone top-up vouchers, call cards, gift vouchers, medicines, postage stamps, fuel, savings stamps, tobacco products and infant formula.
Copied, damaged or defaced vouchers will not be accepted. Lost or stolen Money Back vouchers can only be reissued provided they have not expired or they have not been cashed.
Other terms and conditions may apply, see in-store for details.