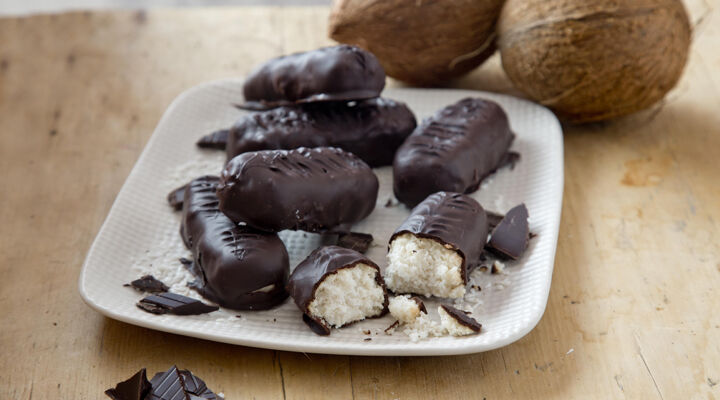 RECIPE OVERVIEW
This healthier take on a Bounty Bar is a great pick-me-up or post-workout treat.
Method
Put a wire cooling rack on a shallow baking tray.
Mix together the desiccated coconut, coconut flour, coconut milk and maple syrup in a large bowl. With wet hands, shape the mixture into bars and arrange them on the wire rack. Refrigerate for 1 hour or put in the freezer for 10 to 15 minutes, until set.
Break up 150g of the chocolate and put it into a microwave-safe bowl. Set the microwave at half power, then melt the chocolate in 30-second bursts to start with, then reducing to 10-second bursts, stirring between each burst until the chocolate is mostly melted but still with a few small chunks remaining. Remove the bowl from the microwave and stir in the remaining chocolate, square by square, stirring until the chocolate cools and thickens slightly.
Pour the chocolate over the bars on the wire rack, letting the excess drip down onto the baking tray. Put in the fridge, uncovered, until the chocolate has set.
These bars will keep in an airtight container for up to a week in the fridge.
Be the first to add a review.